SUBJECTS MUST APPLY THE SEA DUMPING PERMIT
Organizations and individuals have the physical matters belong to the list of physical matters to sea dumping specified in Article 60 of Decree 40/2016/ND-CP:
Dredged materials.
Sewage sludge.
Fish wage or material resulting from industrial fish processing operation.
Vessels and platforms or man-made structures at sea.
Inert geological materials and inorganic matters.
Natural organic matters.
Non-poisonous bulky items which are mainly made of iron, steel, concrete and similar materials but there is no disposal method better than dumping in a specific condition or circumstance.
Physical matters to sea dumping must satisfy the following requirements as specified in Clause 1, Article 58, Law on Marine and Island Natural Resources and Environment No. 82/2015/QH13:
Do not contain radioactive substances, or toxins beyond regulations on radiation safety engineering and Technical regulations on environment;
Treated to meet Technical regulations on environment and ensure not to adversely affect human health, environment, ecosystem and aquatic resources;
Unable to be dumped, stored or treated on mainland or dumping, storage and treatment on mainland do not bring about socio-economic efficiency;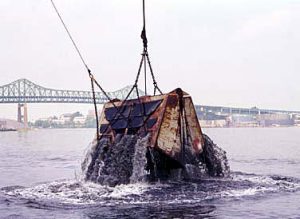 TIME FOR APPLICATION OF SEA DUMPING PERMIT
The project owner should prepare a dossier for a sea dumping permit at the same time / after approval of EIA report of the project which has physical matters to sea dumping.
THE AUTHORITY AGENCY TO ISSUE SEA DUMPING PERMIT
According to Article 60 of the Law on Marine and Island Natural Resources and Environment, the authority agency to issue sea dumping permits is as follows:
The Minister of Natural Resources and Environment shall issue the permit for sea areas (used for dumping) that have part or whole of the area lying outside littoral zones or areas bordering two central-affiliated coastal cities and provinces.
People's committees of central-affiliated coastal cities and provinces shall issue the permit for littoral zones within their own management except cases within the management of the Minister of Natural Resources and Environment.
CONTENT OF REPORT "SEA DUMPING PROJECT"
As regulated at Point b, Clause 1, Article 54 of Decree No. 40/2016/ND-CP dated May 15, 2016, the structure and content of "Sea dumping project" is prepared according to Form No. 03 in the Appendix to Decree No. 40/2016/ND-CP, including:
INTRODUCTION: Summary information of the project
CHAPTER I: NATURAL, ENVIRONMENT, SOCIO-ECONOMIC CONDITIONS OF THE SEA AREA PROPOSED TO BE DUMPED.
Administrative geographic location, coordinates, boundaries, and area of ​​the sea area to be dumped;
Natural conditions, environment, ecosystem and socio-economic factors;
Activities of exploiting and using natural resources in the dumped sea area and other related areas.
CHARPTER II: DUMPING PLAN
The name, origin, shape, size, mass, physical and chemical properties and composition of the proposed material to be dumped;
Identify the extent of dispersion, describe the shape, layout and calculate, determine the influence of the material, dumped matter;
Assessment of the suitability for the dumped material, dumping method;
The ability to control and minimize material proposed to be dumped in the sea at the source;
Implementation Plan and schedule of dumping activities.
CHAPTER III: ENVIRONMENTAL IMPACT ASSESSMENT.
Forecast of impacts, risks and measures to minimize impacts caused by dumping activities.
Measures to prevent and mitigate negative impacts and prevent, response to environmental risks, incidents
Environmental management and monitoring: Develop environmental monitoring programs and estimated cost.
CHAPTER IV: ESTIMATED DUMPING COST. Estimate the costs for project items and environmental impact mitigation measures.
CONCLUSIONS AND RECOMMENDATIONS
A MAP OF PROPOSED SEA AREA USED FOR DUMPING IS PREPARED BY THE FORM NO.09 AS REGULATED IN APPENDIX OF DECREE NO. 40/2016/ND-CP
FEE FOR ISSUING SEA DUMPING PERMIT
Under the provisions of Circular No. 105/2018/TT-BTC dated November 15, 2018 by the Ministry of Finance, regulating amounts, collection, and payment of fees for issuing sea dumping permits are as follows:
For permit issuance             : 22.500.000 VND
For permit re-issuance        :   7.000.000 VND
For licene renewal               : 17.500.000 VND
For permit amendment        : 12.500.000 VND
VALIDITY PERIOD OF SEA DUMPING PERMIT
According to Clause 2, Article 59, Law on Marine & Island Natural Resources and Environment, the validity period of sea dumping permit which is considered on the basis of the physical matters to be submerged, the scale and nature of the sea dumping operation and the used sea area for dumping is no more than 2 years and extended once for no more than 1 year.
VIECA'S EXPERIENCE
VIECA is a unit with a lot of experience and advantages in sea-related projects such as sea dumping, seaport construction, sea reclamation … thanks to the following factors:
Being a member unit of Vinacontrol Group with high reputation and professionalism.
Extensive experience in coordinating and working with foreign partners, central and local government agencies.
Team of experts with many years of experience in the fields of Environment, Hydrology, Oceanography, Ecology, Geology, Climate Change, etc. Hydrological and oceanographic experts have competently and professionally used coastal sediment transport models such as: MIKE 3, MIKE 21, SBEACH, Delft3D, LITPACK, etc.
HERE ARE TYPICAL SEA DUMPING DOSSIERS CONSULTED BY VIECA